Welcome to the official website of James L. Thane
You can use the navigation bar on the left to move around the site where you'll find brief excerpts from Jim's novels. You'll also discover lots of other material, including photographs of and links to Sean Richardson's Phoenix. If you'd like, you can also join our mailing list which will enable us to keep you up to date with Jim's tour schedule and other activities related to the books. Enjoy, and thanks for dropping by!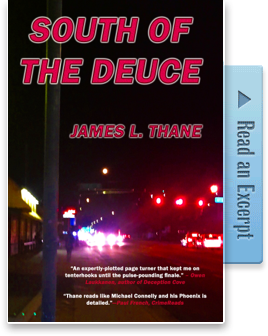 "SOUTH OF THE DEUCE is an expertly-plotted page turner that kept me on tenterhooks until the pulse-pounding finale."
— Owen Laukkanen, author of Deception Cove
"Thane reads like Michael Connelly and his Phoenix is detailed."
— Paul French, CrimeReads
"FATAL BLOW is a meticulous and engrossing procedural."
— Lou Berney, Edgar Award winning author of The Long and Faraway Gone.
"Beautifully written and tautly plotted—one of the best procedurals I've read in years."
— Christine Carbo, Award-winning author of The Wild Inside
"An engaging police procedural that hooks the audience. ... Readers will relish James L. Thane's tense thriller."
— The Mystery Gazette
"A fast action thriller..."
— Suspense Magazine
"NO PLACE TO DIE is a two-in-one treat, a convincing police procedural bolted to a nail-biter suspense novel. A good novel gives you real people in a real place, and James L. Thane delivers both with his skillfully drawn cops, victims and crooks in today's Phoenix."
— Sam Reaves, Author of Mean Town Blues
"NO PLACE TO DIE is an auspicious beginning to what I hope will become a series. Sean and Maggie make a great crime-solving team."
— Barbara D'Amato, Author of Death of a Thousand Cuts
"An excellent debut..."
— The Poisoned Pen Booknews
"CROSSROADS is a deep dive into the kind of deadly conflict that a vast and beautiful landscape can produce. There's treachery in Thane's Big Sky country, and battle-worn lawyer Dave Matthews is determined to peel back the layers to reveal the always-elusive truth. An engrossing read!"
— Gerry Boyle, Author of Strawman and the Jack McMorrow Mysteries